Esports is a form of competitive video gaming that has taken the world by storm. It is one of the fastest growing entertainment forms, becoming increasingly popular in both professional and amateur scenes. From giant multinational tournaments to small online events, esports has gained an unprecedented worldwide following.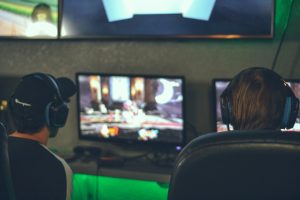 One of the key factors behind the rise of esports is the constantly evolving hardware and software that players use. With ever more powerful gaming systems, better graphical capabilities, and faster connection speeds, esports can provide a more dynamic and engaging gaming experience. At the same time, streaming services such as Twitch have enabled millions of people to watch tournaments in real time, cultivating an incredibly passionate fan base. 
The growth of esports also lies in its accessibility. From mobile gaming tournaments to international leagues, esports can be played anywhere and by anyone. This has opened up opportunities for pros and amateurs alike, with an ever-growing number of tournaments catering to different gaming styles and skill levels. 
Finally, the streaming services and social media platforms that have built hype around esports have created a whole new level of impact and exposure. With millions of followers around the world, competitive gamers have become celebrities in their own right, and fan engagement has reached new heights. 
For this same reason, betting on esports events has become a popular activity, and esports teams have become increasingly commercialized. As interest in competitive gaming grows, the biggest tournaments are becoming massively profitable for sponsors and developers.
The Appeal of Esports Betting 
Esports betting is an increasingly popular form of gambling that involves betting on the outcome of professional video gaming competitions and tournaments. These competitions typically feature professional gamers performing in front of live audiences, and bets are placed on which players or teams are likely to win a given game. 
Esports betting is often seen as a form of social betting, as there's often a large pool of betters who are there to support their favorite players or teams. It is also becoming a popular form of gambling due to the complexity of the games and the ever-changing odds that need to be factored into each round of betting. 
In addition, esports betting is a great way to gain more insight into the gaming industry, examine the strategies and skills of professional players, and make thoughtful predictions. With nuances such as banning heroes, surprise changes, and team strategies, successful bettors of esports require not only knowledge of the games but also fast reflexes to stay one step ahead of the competition. 
Overall, esports betting sites has grown in popularity due to its social aspect, complexity, and the incorporation of many different variables. Esports betting still requires players to have a lot of knowledge and experience of the games they bet on in order to make informed predictions about the outcome.
Betting Guides You Can Get Behind 
In addition to understanding the elements and nuances of esports betting, getting success in such a competitive industry requires strategy. Esports bettors should be familiar with comparing different odds, assessing risk and return on investments, and if desired, developing their own systems and models. Here are some basic tips that every bettors can get behind: 
Research the players or teams competing in the tournament you're betting on – Be sure to check out their track record and performance history.

Participate in fan forums and discussions – Follow what other experienced bettors are saying about certain events and teams.

Develop your own strategies or betting systems – Set up your own rules to guarantee responsible wagers.

Monitor changes in odds and conditions – In esports, anything can change on the fly. Be sure to keep up with the latest developments so you don't get caught off guard.

Learn from your mistakes – If you lose money, don't be discouraged. Instead, analyze what went wrong and make adjustments to your betting strategies. 
Esports has become a hugely popular form of entertainment and competition, and with it comes a whole new arena for betting. With careful research and practice, anyone can learn how to bet responsibly on esports events, and hopefully gain some success from it. Whether you're an experienced esports fan or a newcomer to esports betting, remember to have fun, stay safe, and always gamble responsibly.
Tournaments Worth To Bet 
Esports is an ever-growing industry with an increasing fan base that has developed rapidly over the last decade. A competitive gaming tournament or event is organized every day around the world, with events ranging from small regional tournaments to large international events. 
The plethora of tournaments and events is one of the reasons why esports betting has become popular. With dozens of tournaments each year, esports fans can bet on their favorite teams or players to win a range of different prize pools. Here are some of them that you should keep an eye on: 
The International – The International is the yearly Dota 2 tournament organized by Valve Corporation. One of the

most prestigious tournaments in esports

, teams from across the world compete for an immense prize pool. The event has become incredibly popular and has very high viewership.

League of Legends World Championship – The League of Legends World Championship is one of the biggest annual tournaments and showcases the best teams from the League of Legends competitive scene. It is the highest prize pool event for League of Legends, with millions of dollars on the line.

ESL Pro League – The ESL Pro League is an international esports event held twice a year. The event features tens of the best regional teams and over a course of a few weeks, they compete against each other in their respective discipline.

Dreamhack – Dreamhack is a series of esports events held all around the world. At the event, gamers from different corners of the world gather together to compete and enjoy various esports games. It is one of the biggest gaming events in the world and has hosted major tournaments in CS:GO, StarCraft II, and more.

Major League Gaming – Major League Gaming (MLG) is a professional esports league which hosts tournaments for

gamers of all levels

. It also functions as a platform for players to build their skills and get to compete at higher levels. With events in multiple regions, the MLG provides an even playing field while rewarding the most talented with prizes. 
These are some of the major tournaments and events in the esports world. With high-stakes gaming tournaments and a passionate competitive scene, esports has become one of the biggest industries in gaming. From superstars like Danil 'Dendi' Ishutin to rising stars in the field, esports provides an array of opportunities for gamers to test their skills and get rewarded for it. Whether it's for the thrills or to bet on a team, esports tournaments are sure to keep everyone on their toes.