The past year was marked by the release of Unreal Engine 5 (UE5) by Epic Games. This is the most significant technological achievement in recent years of game development. Voxel support and raytracing? Among the first! UE5 brings not only a lot of new features and tools that promise to revolutionize game development! We take a closer look at these features. Let's see how they can benefit both developers and players.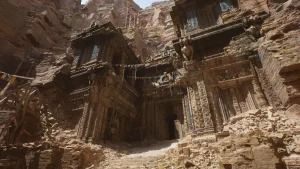 Nanite
One of the most impressive features of Unreal Engine 5 is Nanite, which is a virtualized micropolygon geometry system. It allows developers to use high-resolution 3D assets without worrying about the limits of traditional hardware. In other words, Nanite can render an almost infinite number of polygons, allowing for ultra-realistic environments and characters. This feature is a significant improvement over previous methods of manually optimizing assets for use in games. With Nanite, developers can create more detailed and lifelike worlds than ever before.
Improved Physics
Unreal Engine 5 also brings significant improvements to the physics engine, making it more realistic and accurate. This feature allows for more realistic interactions between objects, such as cloth simulation and fluid dynamics. Developers can create more immersive and realistic environments for players to explore. Photogrammetry adding an additional layer of engagement and interactivity to the game world.
Lumen
Lumen is another exciting feature of Unreal Engine 5 that has captured the attention of many game developers. It is a global illumination system that provides dynamic lighting and shadowing in real-time. This technology allows for more realistic lighting that reacts dynamically to changes in the environment and the movement of objects. With Lumen, developers can create more immersive and realistic environments, bringing players deeper into the game world.
MetaHuman Creator
One of the most impressive features of Unreal Engine 5 is the MetaHuman Creator, which allows developers to create lifelike human characters quickly and easily. This tool provides a wide range of customization options. Developers can create characters with unique features, facial expressions, and even mocap body movements. With the MetaHuman Creator, developers can create realistic characters with minimal effort, saving time and resources in the game development process.
Improved Animation System
UE5 also brings significant improvements to the animation system, making it more accessible and realistic for developers. The new system includes a full-body inverse kinematics solver, improved retargeting tools, and a new motion warping feature that allows for more natural-looking movements. These new features make animation much more accessible for developers. It allows them to create more complex and realistic animations with ease. This feature can also make gameplay more engaging and immersive for players, as they will experience smoother and more realistic movements from characters and objects.
Summary
UE5 gives game developers powerful new tools and features. It will allow you to create more immersive and realistic game worlds. With new features, the game app development industry can easily create high-quality, photorealistic environments and characters. This makes gameplay more engaging and enjoyable for players. The addition of Nanite, Lumen, MetaHuman Creator, and improvements to the animation and physics systems are significant advances in game development. It will be interesting to see how developers use these new tools. But for sure, creating next-generation games won't be the same as before. They will evolve and improve in the future.