I wasn't a fan of VR-gaming when it first came into the scene, as I felt like it just wasn't done well. But here we are in 2023 and I own Stream VR, Oculus Quest and PlayStation VR sets. I've noticed that the quality and selection of VR games have gotten better over time, especially in the past few years. So, I thought about running you through the best out there. Let's get to it, here are all the best VR Games that you can try in 2023.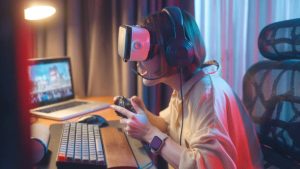 What are the Best VR Games to Try?
What can you play it on: Oculus Quest 2
Over the years, I do like to spend my time trying many new games out. Regardless of VR or not, Pokerstars VR has to be one of my all-time favorite cards-based games.
First of all, it's online based, so you get to play poker games with users from all across the world. I've made a bunch of friends on it and have added them on Steam to this day.
Although you might not expect it from a poker game, Pokerstars VR goes beyond and has some amazing world-building. You can choose from different settings and periods, and my personal favorite is 2050 Macau: the fact the PokerStars is VR means that you get to really feel like you're in this cyber-punk setting.
There's also a rich variety of different poker games to choose from, like Omaha, Texas Hold Em', and the absolute cherry on top is the fact there are even tournaments to flex your skills.
What can you play it on: Steam VR
Valve's Half Life franchise is one of if not the most popular dystopian first-person series on the market. Valve decided to treat us VR gamers with a VR-edition of the game called Half Life: Alyx. It's set in between the events of Half life 1 and 2, and lets you play as the titular character, Alyx Vance, a resistance fighter against the Combine forces.
As expected from Valve's team, the world-building in Alyx is nothing short of breathtaking: you are transported into a world that feels dystopian, with and without the VR headset. But the fact that the game is VR-based makes it much more visceral, as facing off with zombie enemies becomes even more frightening – you actually feel like you're going to die.
I may be biased to give Half Life:Alyx a spot on my list, as the Half Life franchise happens to be one of my favorites. However, it an is amazing experience that you need to try. If you don't believe me, Cnet's Andrew Lanxon absolutely raved about it and agreed – he called it "a milestone in the franchise".
What can you play it on: PlayStation VR
Astro Bot Rescue Mission is a colorful action-platformer that revolves around the titular character, Astro: an adorable robot that is tasked with rescuing his companions from the depths of space.
The game consists of 20 different story levels, each packed with its own bosses, challenges, and even minigames (26 to be exact!).
Astro Bot Rescue is light and colorful, so it's perfect if you want something cozy to enjoy after a long day at work. But sometimes, it can be fast-paced and have you on your toes. You definitely won't be bored with it regardless, as there are just so many different challenges and even trophies to get.
The world-building in the game is breathtaking, which the 360-view immersion from your VR-headset leverages: it's very fantasy and space themed. There are also some unique VR aiming mechanics that aren't that common, like a hook shot mechanism, and one to throw stars and other secondary weapons.
Also, I think that Astro Bot Rescue works great for newbies who are just getting into VR-gaming. It utilizes Sony's DualShock 4 controller which is noticeably easy to get around.
What can you play it on: Quest 2, PSVR 2, and Steam VR
If you're anything like me, you might have an affinity for fantasy-based games. Dungeons & Dragons was a key part of my childhood, and the Demeo VR game essentially brings it to life. It's a fantasy-themed table-top game that revolves around you making moves using the cards and icons in your hand.
The map's 3D, which makes it pop. But something that I think makes Demeo so fun is that you get visuals in the background as you make moves. So, you get to visualize the dungeons and characters that you're playing with (especially since you're playing in VR!).
What can you play it on: HTC Vive; Oculus Quest, Oculus Rift and Rift S; PlayStation VR; PlayStation VR2; Valve Index; Windows Mixed Reality
Beat Saber is a VR game that's perfect for Guitar hero fans. It has a very similar setup, and it also mirrors Audiosurf and Rock Band a bit. What makes Beat Saber different though is that you have to hit beats using a laser-sword.
The whole gameplay revolves around you hitting color-coded blocks at the right time to keep the music going. Sometimes, there are also obstacles that pop up that you have to dodge: while trying to hit the colored blocks, which makes things even more exciting.
I have to say, though, Beat Saber is not a good choice if you're looking for a VR game to play while sitting down. You need to be on your toes and actively move with the controllers. But I don't think you'd want to sit down in the first, as you'll probably be jamming to the music.
This ultimate guide ran through the best VR-games out there, so you won't go wrong with either of them. Hopefully, you found a