Diehard Assassin's Creed fans have already marked the date for October 5th. As we pointed out on G7R, Assassin's Creed Mirage sets out to be one of the biggest releases of the fall. Ubisoft even moved its launch date by a week at the eleventh hour. And this throwback to the early days of the iconic series has gamers increasingly hyped up.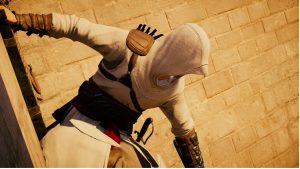 Three years after sailing to the British Isles and Scandinavia in Valhalla, Basim Ibn Ishaq is playing center stage in Ubisoft's new iteration of its flagship action-adventure franchise. This time around, players will discover his early years as a common street thief. As he parkours his way through 9th-century Baghdad, then the crown jewel of the Abbasid Caliphate, the young rebel will eventually emerge as a full-fledged member of the Brotherhood.
Fans already caught a glimpse of the round city's buzzing bazaars and labyrinthine back alleys in a cinematic trailer showcased during the UbiForward in September 2022. But as this much-anticipated game is just around the corner, more information is coming to light.
As announced by Ubisoft from the get-go, Mirage will be significantly smaller than its direct predecessors. As opposed to the protracted playtime of Odyssey or Valhalla, this self-contained coming-of-age story will reportedly clock in at approximately 15 to 25 hours – a length similar to that of Unity or Syndicate. Narrative director Sarah Beaulieu confirmed this was a deliberate choice from the creative team at Ubisoft Bordeaux to mirror the first AC installations.
In a fitting tribute to the franchise's Middle-Eastern origins, the French studio made it clear it had every intention to return to the series' roots with this thirteenth mainline chapter playing out in Baghdad. A nostalgic filter will even conjure up the distinctive blue and grey visuals of the franchise's early beginnings. To bring the legendary City of Peace to life, Ubisoft joined forces with renowned historians and institutions like the Khalili Collections. A YouTube film details the recreation of the round city behind the scenes. Additionally, an in-game codex will replace the Discovery Tour to allow history buffs to delve into Baghdad's golden age as they progress through the story.
Gameplay-wise, the game's four explorable districts will be closer in size to Revelations' Constantinople than to the whopping open world that players could roam in Origins or Odyssey. That said, the wide areas of the Wilderness beyond Baghdad will surely entice fans eager for a more open-ended adventure – or a welcome refresher from running around the city's walled confines. In turn, traveling to the distant Alamut stronghold will resonate with hardcore fans in tune with the series' lore. Long story short, Mirage looks out to bring the best of both worlds, with an immersive Arabic voiceover to boot.
This smaller-scale installment is also poised to revolve around the series' signature assassination and stealth mechanics, which took a backseat to role-playing elements in recent entries. While iconic functionalities like social blending and Black Box missions will return, Mirage won't be a mere attempt at replicating the series' past glory. For instance, new pole vault mechanics will allow Basim to cross over bridges and canals. Similarly, he will be able to boost his kill count by assassinating several enemies in quick succession.
Never-before-seen features like a tie-in haptic suit are making their way to the game to amp up the immersion, too. According to persistent whispers, Mirage may also introduce real gambling. Ubisoft tackled these rumors a year ago. Yet, an updated Xbox store page mentioning paid contests fuelled more speculation in recent months. Whether Basim can sit down for a gamble remains to be seen, thus. In the meantime, AC fans with a knack for casino games can have a flutter online.
If they don't know where to start, they may visit platforms like CasinoReviews. Free reviews help newcomers weigh their options as they lay down key decision-making factors, from game selection and bonuses to benefits and drawbacks. Plus, experts only vouch for licensed websites they've personally tested. First-timers can therefore sign up on the safest platforms around to give a shot at casino classics and fun pokies alike, including several Middle-Eastern-themed slots that evoke the Assassin's Creed vibe.
There is no denying the excitement is building up for Assassin's Creed Mirage. The most anxious fans can preorder the game right now to unlock an exclusive bonus quest or settle for a collector's case, including everything from an artbook to a Baghdad map.