Only a couple of years ago, online games used to be a fun activity for gaming enthusiasts and were not seriously considered by the sports world. However, recently, it has not only gained enormous popularity but also developed into the significant esports industry, covering various competitions, tournaments, organizations, streaming platforms, and so on. Nowadays, the interconnected world of sports and entertainment has even embraced the rising phenomenon of esports betting. Esports betting is growing rapidly, establishing itself as a prominent part of the wider betting industry. In this article, we are going to get newcomers acquainted with esports betting, explaining what it really is, where to place bets, and what the most popular games are. So, welcome to this beginner's guide, and let's start!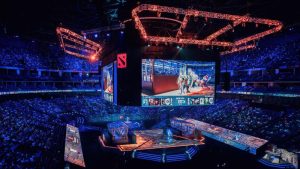 What Is Esports Betting?
Esports betting is a form of gambling where enthusiasts place bets or wagers on the outcomes of competitive video games or tournaments. Similarly to the usual sports betting, it includes predictions on the game's outcome, such as who will be the winner or who will become the champion of a tournament. Additionally, gamblers can place bets on other aspects of a game, for example, how many rounds will a particular team win or some specific in-game achievements. This type of betting has gained popularity after esports earned global recognition and offered additional entertainment for fans like engaging with their favorite games and having an opportunity to win real money.
Even though the concept of esports betting is pretty similar to traditional sports betting, there are major differences between these two types. While common sports betting is based on real-world football, basketball, and other athletic competitions, esports betting is wrapped around the digital sphere of competitive video gaming. Thus, numerous esports events are available online in any part of the world which means that viewers are allowed to place bets simultaneously as live streams take place. What is more, the audience of esports is younger and mostly tech-savvy. It contributes to the global accessibility and schedule of esports events which results in endless betting opportunities.
Where Can I Bet on Esports?
Finding a reputable betting website is crucial because it ensures a safe and honest betting experience. To help you save time on research, below are some of the most popular and transparent platforms that are available for esports betting.
1xBet is a popular platform that offers an extensive variety of betting opportunities including esports events. Perfect for both beginners and experienced gamblers, this website has a user-friendly interface which makes the platform really easy to navigate. 1xBet covers a lot of esports competitions and tournaments including popular games like Dota 2, League of Legends, and CS:GO. There are also a lot of other sites like 1xBet, that are not inferior in quality and variety of betting options.
Betway is among such lists. This well-known website provides gamblers with a vast array of live betting options which gives them the opportunity to place bets in real-time while watching live streams of their favorite esports competitions. Betway has built a good reputation with the help of competitive odds and a variety of payment options including cryptocurrency.
William Hill is a well-recognized sports betting website that offers numerous opportunities for esports enthusiasts. This platform has an esports betting section where a wide range of popular games are available. It includes Dota 2, League of Legends, CS:GO, and more. William Hill has a good reputation for reliability, competitive odds, and great customer support that make it a perfect choice for bettors.
PariMatch is a reliable online platform that caters to both beginners and seasoned bettors. Apart from traditional sports betting, it also has dedicated room for esports fans. With its intuitive and user-friendly atmosphere, PariMatch allows users to place real-time wagers while watching live streams of esports events.
What Are the Most Popular Games for Esports Betting?
Esports betting generally offers a huge variety of betting options beginning with the most favored games and ending with the latest releases. If you are a beginner in esports betting, it may be easy to get lost in such a vast array of opportunities, so we are going to distinguish the 3 most popular games for betting.
Dota 2: Dota 2 is a prominent video game with millions of fans and huge international tournaments. The biggest tournament "The International" has a multi-million-dollar prize pool and attracts a significant amount of bettors. The enthusiasts are offered to bet on match results, in-game events, and more.
League of Legends: the game's main tournament The League of Legends World Championship is also one of the biggest esports events globally. It encourages both viewers and betting participants. Betting opportunities of this game include match winners, map scores, and in-game objectives.
Counter-Strike: Global Offensive (CS:GO): This vivid first-person shooter action has two major tournaments that attract bettors – ESL Pro League and Intel Extreme Masters. CS:GO is well-known worldwide and its betting options include match outcomes, round winners, and more.
In conclusion, the esports betting industry is a dynamic and developing fusion of gaming and gambling. Based on competitive video games, it offers a great variety of betting options from game outcomes to player statistics. For beginners, it is crucial to understand the basics and main concepts of the industry in order to harmlessly enjoy their betting activity. The digital nature of esports, its variety of games, and its passionate global community encourage the emergence of numerous reliable betting sites like 1xBet, Betway, William Hill, PariMatch, and more. Such betting platforms allow fans to wager on a plethora of esports tournaments and matches of their favorite games like Dota 2, League of Legends, CS:GO, etc. As the esports industry continues to grow and captivate audiences worldwide, esports betting is poised to be an integral part of its future, offering an exciting way to engage with the games we love while keeping the thrill of competition alive.