CS:GO is a popular video game that captivates gamers with its intense gameplay. Weapon skins are one of the reasons for this popularity, and M9 Bayonet has gained significant fame amongst weapons. 
One particular skin variant worth mentioning is the m9 marble fade available in the upcoming CS2. In this article, we will give an overview of its design specifications and performance perspective to satiate your curiosity.
We will explore how well it matches up to regular blade designs, as well as unique characteristics only found on this specific blade. Additionally, we'll reveal the current market value for it so you can judge if it's worthy enough to grace your digital arsenal collection.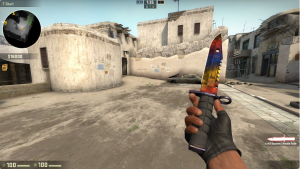 Review
Marble Fade is a highly sought-after skin for the M9 Bayonet, cherished by Counter-Strike enthusiasts. It has a mesmerizing marble pattern that creates an eye-catching display. However, it's important to note that in CS2, the Marble Fade skin is purely cosmetic and does not impact the weapon's performance or stats.
Design and Price
The allure of M9 Bayonet | Marble Fade lies in its intricate and elegant design. The blade features a vivid marble-like pattern, reminiscent of polished stone, with a range of vibrant colors flowing across its surface. The smooth transitions between hues mesmerize players and onlookers alike.
The color palette of the Marble Fade skin varies from knife to knife, presenting a unique and individualistic aspect to each blade. Colors like blue, purple, pink, and yellow blend seamlessly, forming a beautiful gradient. The craftsmanship and attention to detail in creating this skin make it a prized possession among collectors and players seeking to showcase their style and sophistication.
The price of M9 Bayonet | Marble Fade can vary depending on several factors, including its rarity, pattern, condition, and demand in the in-game market. Skins with more vibrant and desirable patterns tend to command higher prices. Consequently, the price range for the Marble Fade skin can fluctuate significantly.
To acquire M9 Bayonet | Marble Fade, players can obtain it through in-game drops or purchase it from the Steam Community Market or other third-party skin marketplaces. Skins with higher wear levels or less desirable patterns may be available at a more affordable price.
It's important to consider that in-game skin prices are influenced by DMarket trends, supply and demand dynamics, and the overall popularity of the skin. Therefore, prices may change over time. It's advisable to research current market conditions and make informed decisions when buying or selling skins.
Conclusion
The Marble Fade skin has no impact on the performance of your weapon, but it does make a statement. It's all about looking unique and standing out during gameplay. Always stay aware of market changes and do adequate research before buying in-game items.
Before making a purchase, always balance individual preferences and budgeting needs. It's imperative to conduct thorough research on current prices beforehand as prices can fluctuate unexpectedly resulting in regretful purchases if uninformed with prices previously. After all, gaming is also an experience that's meant to be enjoyed just as much outside of the game itself; therefore, make sure your investment stays worthwhile for you!