iGaming is one of the financially strongest sectors in the entertainment industry. It has been growing in popularity for years and is constantly trying to make itself more fun and appealing to online bettors. Virtual reality could offer a new way for users to experience casino-style games in a virtual environment.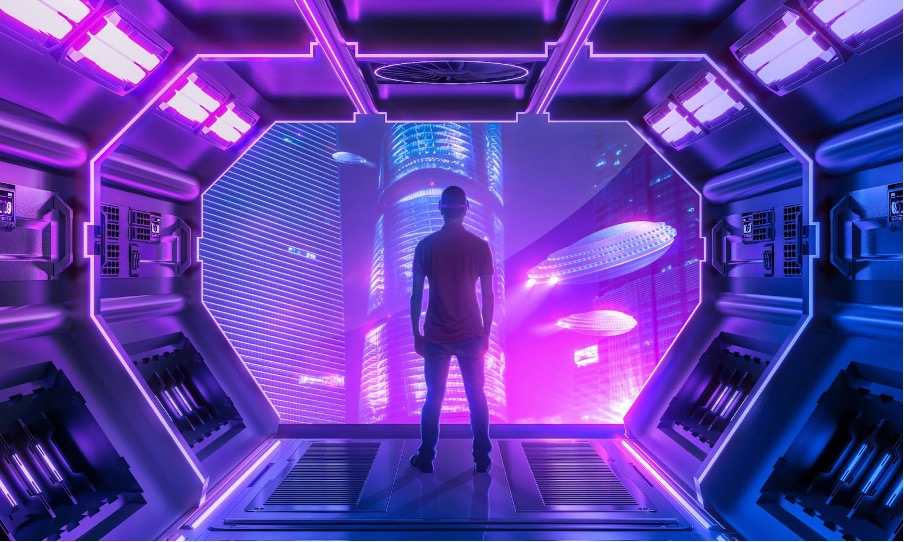 Users could look after the best online slots, featuring new enriched surroundings, with visuals and sound effects coming from 360 degrees around. Virtual reality slots, poker, roulette, blackjack, etc. can be found on Steam and some native app stores of Oculus and other VR gadget providers.

Classic online gambling games, played from regular smartphones or computers still take the edge though, both in customer reviews and in number of players. Maybe in the future, as the technology improves, things will turn around.
Gaming and Esports
Esports and gaming in general have been strongly impacted by VR development and are a natural fit, as both involve immersive, interactive experiences that can be accessed from anywhere in the world.
E-sports have grown from a niche hobby to a major industry in recent years. Global esports market in 2022. has been estimated at $1.38 billion according to Statista. It is projected to reach $1.86 billion in 2025. Esports games are typically played online, with players competing in games like League of Legends, Overwatch, and Counter-Strike: Global Offensive. Esports events can attract huge audiences, with the League of Legends World Championship drawing in over 5.15 million viewers in 2022.

Valve, the company standing behind the Counter-Strike series, a game that is widely seen as a synonym for first-person shooter games, has unveiled VR mode for CS:GO after having success with VR exclusive game Half-Life: Alyx.
It's also being reported that Resident Evil 4 Remake begins the development of VR mode.
We could imagine a future where the League of Legends World Championship takes place in a virtual arena within the metaverse. Fans from around the world could maybe attend the event as avatars, cheering on their favorite teams alongside other fans in real time. Players could compete from their own homes, with their gameplay being streamed to the virtual arena for all to see.

As VR gadgets become more available and reliable, gamers and esports events will likely pick up more and more virtual reality equipment. Some of the most popular pieces of VR gaming equipment are headsets by Oculus, running pads by Virtuix, driving, flying simulators, etc.
Education
Virtual reality could provide a new way for students to learn and interact with one another and with their study material. Virtual classrooms could be created where students from around the world could attend classes together and collaborate on projects, tour virtual museums, galleries, laboratories, factories, power plants, etc.
Most of the online teaching platforms as Microsoft Teams, Moodle, etc. are yet to incorporate some of these abilities. As expected, the education sector isn't as fast-paced in adapting new technologies as the entertainment industries, partially because of budget, and partially because of the more conservative approach to the matter.

Some notable examples of VR applications in education are virtual training courses for pilots and surgeons.
Socializing
When it comes to socializing VR has evolved into Metaverse. The metaverse could provide a new way for people to connect and socialize with one another. Users could interact with one another in virtual spaces, attend virtual parties or events, or even create virtual dating scenarios.
The leader in metaverse technology development is Meta, the company owning Facebook, Instagram, WhatsApp, and Oculus.

VR also offers a new platform for hosting virtual events, such as concerts, conferences, or trade shows. Attendees could interact with one another in real-time, and the events could be streamed to users around the world.
Virtual Real Estate
For some time now, better-equipped real estate websites also offer virtual tours of properties. A new concept nowadays is virtual property, a digital product, which could be used for personal use, for example, creating a virtual storefront to sell virtual goods, or for commercial use, such as hosting virtual events.
Overall, the possibilities for VR are extensive, and as technology advances, we are likely to see even more creative uses for this emerging technology.