The Evolution of Mobile Gaming Over Time
Mobile gaming has come a long way since its inception, Initially, mobile games were simple and limited in terms of graphics and gameplay, primarily consisting of classic arcade-style games like Snake and Tetris. However, the introduction of smartphones revolutionised the mobile gaming industry. Smartphones have become powerful devices capable of delivering immersive gaming experiences, with millions of players engaging in various genres and game types.
In 2007, Apple launched the iPhone, which brought about a significant shift in mobile gaming. The App Store, introduced in 2008, provided a platform for developers to create and distribute games to a massive user base. Suddenly, gaming on the go became more accessible, and the variety and quality of mobile games began to improve.
Apple's iOS platform offered developers powerful tools to create immersive gaming experiences. The iPhone's touch-screen capabilities and accelerometer allowed for innovative and intuitive gameplay mechanics. As a result, we saw a surge in mobile gaming popularity, with titles like Angry Birds and Temple Run captivating millions of players worldwide.
In addition to Apple's influence, the rise of Android devices further expanded the mobile gaming market. With a range of smartphones and tablets running on the Android operating system, more players had access to a vast library of games.
What is Open World Gaming
Open world gaming refers to a genre where players are given vast virtual environments to explore freely. These games offer a sense of freedom and allow players to engage in various activities within the game world. Players can undertake quests, interact with non-playable characters (NPCs), and discover hidden treasures, all while enjoying stunning graphics and immersive gameplay.
The advancements in gaming technology have transformed the way people play, allowing them to enjoy games anytime and anywhere. For fans of playing online mobile casino games, providers have created mobile apps for players to conveniently access in downtime or when on the go. Another prime example of this is Pokémon Go, which sparked a global phenomenon, as players of all ages ventured outside, increasing their physical activity levels and engaging in social interactions with fellow players.
Additionally, the highly anticipated Harry Potter: Magic Awakened promises to transport players to the magical world of Hogwarts, offering an expansive open world filled with spells, creatures, and adventure.
Best Open World Games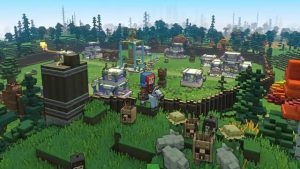 Minecraft:
Minecraft needs no introduction as one of the most popular sandbox games ever created. Available on mobile devices, it offers endless possibilities for creativity and exploration in its blocky pixelated world. Players can build structures, mine resources, fight off enemies or simply enjoy the freedom to create their own adventures.
Grand Theft Auto: San Andreas:
Grand Theft Auto: San Andreas is a classic open-world game that has been adapted for mobile platforms. Set in a fictional city inspired by Los Angeles, players assume the role of Carl Johnson as he navigates through a vast open-world environment filled with missions, side activities, and an engaging narrative.
Pokémon Go
Pokémon Go's unique use of being free to use, as well as using augmented reality and geolocation technology encouraged players to explore their surroundings and search for virtual Pokémon creatures in real-world locations.  It will go down in history as one of the most successful mobile games of all time and the fastest to earn $100 million and even in on the 11th July 2023 had 80 million live players.
Genshin Impact:
Genshin Impact is an open world action role-playing game that has taken the mobile gaming industry by storm. With its breath-taking visuals, diverse characters, and engaging storyline, it offers an expansive world for players to explore. The game features real-time combat mechanics and allows players to switch between different characters with unique abilities. In March 2023, over 65 million players played Genshin Impact and the game shows no signs of declining in popularity.
These are just a few examples of the best open-world games available on mobile platforms in 2023. Each offers unique gameplay experiences that cater to different preferences and interests of gamers worldwide.
In conclusion, the world of mobile gaming continues to evolve, providing an ever-expanding array of open-world games that offer immersive and captivating experiences. As we look ahead to 2023, there are several standout titles that mobile gamers should consider. Games like Genshin Impact, with its beautiful open world and engaging storyline, provide players with a vast and visually stunning environment to explore. With these and many other exciting open-world games on the horizon, mobile gamers can look forward to experiencing immersive and limitless gaming experiences wherever they go in 2023