Upon the original trailer release, most gamers had no idea of what to expect in Hogwarts Legacy. The original trailer was vague with a sense of exploration and a return to everybody's favorite wizarding school, Hogwarts. The wizarding capital is known for its magic, potions, and creatures. However, there is one blemish that is quite common in the history of the school, and everybody who watched the films or read the books knows what that is, or should I say who that is? He who shall not be named, Voldemort, brings a dark cloud upon the love and tradition of Hogwarts, vowing to destroy the school but more importantly Harry Potter. When Portkey Games was announced to make Hogwarts Legacy, many players flocked into the idea of which house they would join and what kind of wizard they would become. That begs the question that is being asked on all social media platforms along with meme'd on all of them as well. Can you become the next Voldemort, and vow to petrify all those who oppose you? Yes and no, let me explain from the beginning.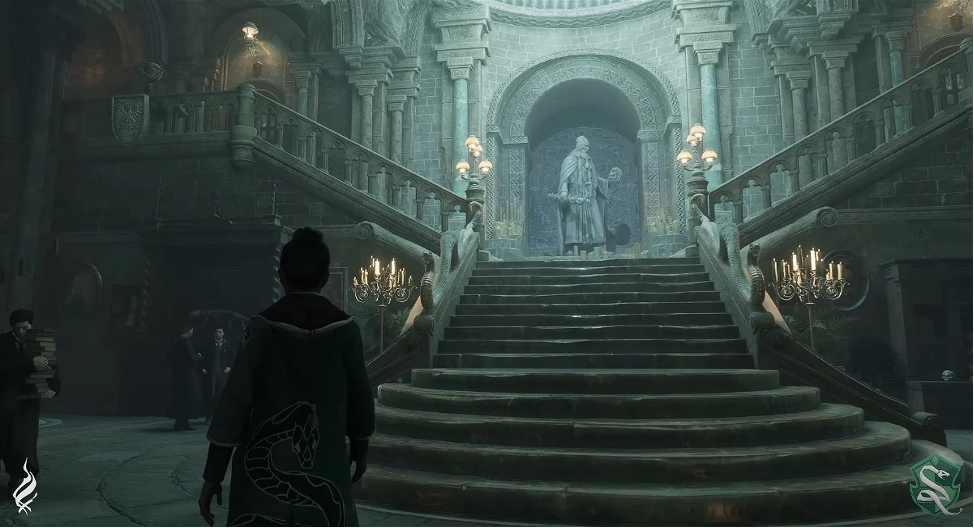 Hogwarts Legacy involves gamers creating their own wizard who will partake in the history of the school before Voldemort and Harry Potter himself were evident or present. This will allow for unique stories and takes on the book and background history, along with a new story in the non-muggle schooling system that is Hogwarts. The third-person roleplaying game starts with new students picking their house through the sorting hat, whether it be the sinister Slytherins, the brave Gryffindors, the loyal Hufflepuffs, or the intelligent Ravenclaws. The choice will be yours, and although I stand by being Gryffindor forever (I promise I am not trying to be the main character), many fans are hellbent on choosing Slytherin. Why, you may ask? The rumor is that gamers will get to kill or murder students on campus, along with using forbidden spells against their enemies. This has fans wanting to follow in the footsteps of he who shall not be named, provoking the ability to enact havoc on the campus. Tiktok is filled with memes and  videos of fans going after the first-year students and making the memory of Voldemort forgettable in comparison to their tirade. Fans are left in wonder of whether they can truly kill anybody they want. The answer is no, but here is what you can do!
You can kill certain students or many others throughout your time as a mischievous pupil. This involves going on missions and killing anyone who dares to put their wand up against yours, smashing them against walls and such. This also involves quest choices, in which players will be met with the option to choose one outcome over the other, furthering their legacy as an evil or pure force of power. That being said, try shooting a student with your wand and you will be met with disappointment, as NPCs move out of the way unless they are meant to die. For example, videos have been shown of the character you create walking around campus, aiming his wand into crowds of bystanders who are speaking to each other. These bystanders then move in a quick fashion to dodge any incoming magic or spell cast at them, breaking the hopes and dreams of those looking to be horrible people. Unfortunately, unless someone mods the game which is bound to happen, random non-playable characters are unkillable.
 If there is one thing that dangerous gamers can look forward to in Hogwarts Legacy, it is the ability to perform unforgivable curses on enemies. Unforgivable curses are those that warrant actual life sentences for using in the Harry Potter universe. For those worried about serving life sentences in the game, you'll be happy to know that there is little to no consequences for using such curses against your begging enemies. For those looking to cast magic on more enemies, consider checking here to buy League of Legends accounts that will have you striking down foes in no time. That doesn't mean you should go and do it! The ability is there to kill as many characters as you please, but at the cost of your own conscience. However, if Tiktok is any indicator on conscience, many players are willing to go ahead and do the killing if it means being the top student at Hogwarts.
Although enemies may be the only ones that players can look forward to getting rid of with their dark intent, most NPC's in Hogwarts will shun any spell that comes their way. But to those looking to use the Dark Lords spell on those who readily attack you, there is nothing stopping you from doing so. This means that players can certainly pull an "Avada Kedavra", otherwise known as the "Killing Curse", out of their back pocket for those who push the line a bit too far. That being said, the spell does have quite a long cooldown as it is genuinely one of the most powerful spells that can be cast onto someone. Death has come to the school that is Hogwarts and you may enact it on whomever you choose, whether it be in stealth mode with the invisibility cloak equipped or in the face of danger.             The legacy of Harry Potter may not be in the framework of Hogwarts yet, but you can create your own in the upcoming game, Hogwarts Legacy. The developers insist that players create their own paths in this journey through school, whether it be joining the light and continuing tradition or breaking it to rule the school for yourself. Nobody can stop players from becoming powerful wizards who have the ability to shape destiny for themselves. Hogwarts: Legacy strikes the market with magic on February 10th, 2023. Keep an eye out to Eldorado.gg for more news on the hottest games and the best place to buy gaming goods